When You Need to Get Things Done Now!
By Perry A. Kuznar, PE
Client Services Manager
Reality Check!
What a year it has been! The new year is right around the corner.
Stop for a moment and think…
Where are we at in our business?
Is our organization where we need it to be?
Are we getting the results we want or expect?
These are all excellent questions. With all the uncertainty, how do we keep costs in line and still grow?

Is Your Team the Right Size?
Let us take a closer look at the work your company does and the customers you serve. Your staff handles it all.  But is it big enough and diverse enough to effectively reach your goals?  What do you do if you find some gaps?
Hiring new employees is an answer.  But hiring is expensive, and the long-term cost can be prohibitive.
Are you stuck?  No.  Consider contingent workforce staffing.
What is a Contingent Workforce Resource?
Companies use contingent workforce resources when a job is short-term rather than permanent.  They are also an option when the company has frozen the hiring of permanent employees.
Contingent workers are not considered employees of your company.  They work under contract in a temporary capacity.
They can fill most any position or capacity you may have in mind.
Some roles in our industries include…
Engineer
Designer
PLC Programmer
Controls Specialist
CAD Drafter
Electronics Technician
Program Manager
Designated Representative
What are the Primary Benefits?
Employers can expand their business without the overhead of hiring a direct employee. You avoid long-term costs for health insurance, dental insurance, 401k retirement plans, etc.

Do You Need Something Done Now?

The biggest benefit of a contingent workforce staffer is the ability to arrive on short notice and hit the ground running.  They have industry specific knowledge and experience.
These employees are also flexible. Upon project completion, you can re-assign the contingent worker to another suitable project.  You also have the option to release them.
You can bring someone more suited for the next project phase (if that is what your need is).
Are They Expensive?
At first glance, they may appear to be!  But what are you trying to get done?
Consider a permanent hire if you have a job that requires a full-time permanent employee.  Even then, compare all the costs involved between the two.
If you have a temporary project, hire a contingent worker to take care of that.  Do not re-assign a permanent employee to take that on.  You water-down that person's primary contribution to your organizations' growth.  You also slow your process down.
What Should You Be Aware Of?
The main concern is differentiating contingent workers from direct hires.  Make sure their employment contract has a clear and accurate job description.  This includes pay rate, assignment time frame, and employment exemption status.  Their status should be clearly differentiated from direct-hire employees.
You do not want any expressed or implied notions that contingent workers are exactly like direct-employees and should be treated as such.  There have been legal cases where contingent workers demanded to have the same wages and benefits as direct employees.  The line between the two had blurred that much.
How Do You Find A Contingent Worker?
There are two primary options for hiring a contingent worker:
You can have your HR Department recruit candidates, onboard them, and build them into the payroll. HR staff takes care of all the details.  Recruits can be freelancers, independent contractors, and consultants.  They can be anyone employed by your company temporarily.
Outsource your contingent staff needs to a third-party company called an Employer of Record (EOR). An EOR is a company that hires and handles all functions to place the employee in a contingent workforce role.  They are responsible for employee payment, taxes, benefits, insurance, licensures, and other required items that are part of human resources.  This takes the burden off your company to make that happen.
Your Source for Contingent Workforce Personnel!
Excel Engineering has been a trusted advisor to our clients for 30 years!  We assist Industrial Manufacturers and Power Utility Companies with consulting expertise in the following disciplines:
Electric Design for Facilities and Processes
Automation and Controls Engineering for Processes
Contingent Workforce Personnel
Arc Flash Studies
Electric Power Systems Studies
Electric Transmission Systems Studies
Electrical Safety Training
We supply qualified contingent workforce employees!
Click here now to submit a request for contingent workforce resources.  It is easy and takes just a couple of minutes.


Bonus:  Meet a real contingent workforce employee (he is one of ours)!
(Excerpted from Excel Engineer's September Newsletter)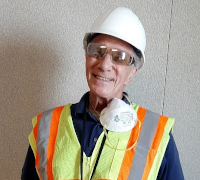 Employee Highlight: Hockey Player Makes His Mark in the "Big Leagues"

Davin "Dave" Losier is a Designated Rep. He works on an ambitious plant expansion project in Aberdeen, SD. The expansion boosts N95 mask production in response to the COVID-19 pandemic.

"My job is to watch over and assist on-site contractors on behalf of our Client's project managers. In this fast-paced environment, I am like an air traffic controller. I direct the contractors on where and when to go. I connect them with decision-makers when issues arise and keep a sharp eye out for safety issues."

Dave's experience brings a calming effect to a high-stress environment. He fills the bill as a "seasoned veteran".

"I have an extensive background in engineering and construction projects. This exposed me to almost any situation and personality you can encounter on a job. I come up with practical ideas to help keep projects moving."

Dave has had many good influences. He learned a great deal from his native Canadian national sport.

"I have been a hockey player my whole life. Playing the game teaches you lessons in the game of life. Each player has a job to do. Executing together as a team is the most effective way to score a goal."

"On the job, I can sense when a situation may be heading south. I take steps to head the potential problem off at the pass before it turns into a real problem that can cost us time and money. That philosophy comes from the great hockey player Wayne Gretzky. He noted; I skate to where the puck is going to be, not where it has been. That advice has prevented a lot of potential heartburn over the years."

Dave exemplifies service and professionalism. Our company strives to deliver that philosophy in everything we do for our clients.