How the IT Department Makes Your Business Operations Secure!
By Perry A. Kuznar, PE
Client Services Manager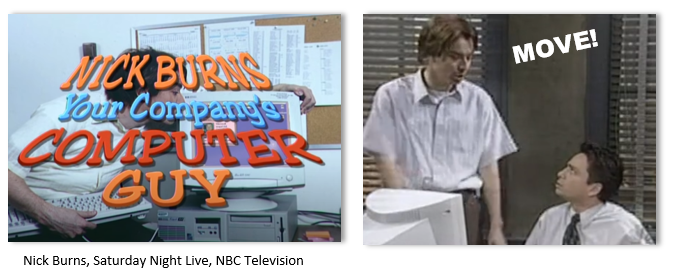 Nick Burns – The Computer Guy
Back in 2000, Saturday Night Live introduced Nick Burns, Your Company's Computer Guy. This brash nerd with the trademark messy hair, pagers, and pocket protector was the company's IT support guy. He was smug and used his knowledge to make fun of employees with computer struggles. Current Tonight Show host Jimmy Fallon played the brassy computer tech specialist.
Nick would listen to flailing office workers trying to explain their computer problems. After their blathering went nowhere, he would yell "MOVE!" and take over their keyboard. Two seconds later, he had the problem solved. He would then look down at them and smugly proclaim, "WAS THAT SO HARD?".
Nicole in IT
Things were quite different when Nick Burns was on the scene 20 years ago. The Y2K concern had ended. E-commerce was starting to ramp up. Amazon was a newcomer and had yet to make a profit.  The iPhone was still 7 years away from its introduction.
The market has evolved and become much more complex. Security, cloud computing, mobile devices, and data management are the focus areas today. In fact, data security threats are a top priority for IT departments.
So, the nerdy "Computer Guy" has evolved into the sophisticated Information Technology Department. You may have a Nick or Nicole in IT, but they will bear no resemblance to the Nick Burns of old. Theirs is a much more demanding environment, especially with data security.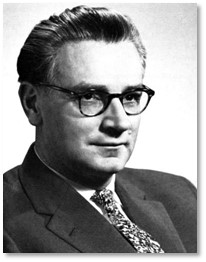 It All Started with Conrad Zuse
Let's face it, the world is a hazardous place when it comes to your data. We keep hearing terms like hackers, ransomware, and cybersecurity. We know these are serious things. How did we get here?
In 1941, engineer and computer scientist Konrad Zuse invented the world's first programmable computer. It followed that others learned how to program these mainframe systems. These people became experts and pushed programming to a higher art form. They created "hacks", or programming shortcuts, to complete tasks faster.
In the early '70s, hacking started to become an issue. A Vietnam war veteran by the name of John Draper figured out how to hack a computer system to make free phone calls. Things escalated from there.
Personal computers started hitting the scene in the early '80s. Individual computer owners now had more power to do what they wanted.
Then came ARPANET, the start of today's internet. These smart programmers could now go online. They could "hack" the existing code of other users and "break-in" to their systems.
Serious issues arose. These included jamming phone lines, monitoring calls, and breaking into private computers. What started as "practical jokes" on fellow programmers evolved into malicious behavior.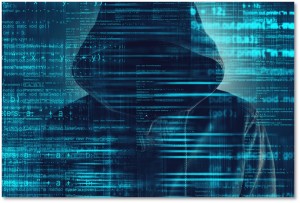 Cybersecurity
It rolls off the tongue in a sophisticated, almost mysterious way: cybersecurity!
What is it?
Hackers have become very sophisticated. All factions of our lives have computers integrated into them. Banking, healthcare, manufacturing, power generation…you name it. Hacking those systems can have serious consequences.
Ransomware is one such issue. Hackers plant a malicious software program (malware) on your system to take over your data. They hold this data hostage until you pay a ransom for it. Thus, ransomware.
Another is intellectual property theft. Your data (or your clients') is worth more to a hacker than a ransom.
So, cybersecurity is the body of technologies, processes, and practices that protect networks, devices, programs, and data from attack, damage, or unauthorized access.
How We Make Your Data Safety Our Top Business Priority!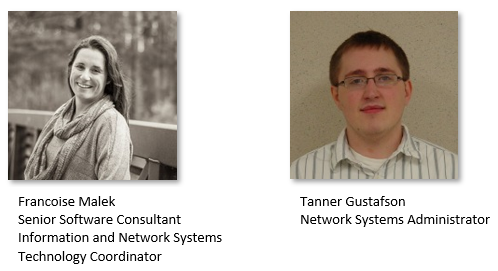 Meet Francoise Malek and Tanner Gustafson! They are the people of our IT Department. They keep our systems running reliably and our data secure.
They focus on the many needs of our employees and engineering services clients. These include:
Latest computer software and firmware updates
Servers up to date
Latest antivirus
Multi-factor authorization
Secure cloud services
Secure client file sharing and collaboration service
Secure file transport
Prioritized data encryption
Disaster recovery policies
Incident response plans
Full-time IT support (verses contracted)
Custom programming
Client IT issue help
Cyber Security Audits
They focus on internal IT support. But their expertise is available for client projects. Their expertise and professionalism inspire confidence in our employees and clients.
Our IT Experts Help Us to Serve You!
Excel Engineering has been a trusted advisor and guide to our clients for 32 years!  We assist Industrial Manufacturers and Power Utility Companies with consulting expertise.  This includes the following disciplines:
Arc Flash Studies
Electric Power Systems Studies
Electrical Design for Facilities and Processes
Controls and Automation Engineering for Processes
CAD Services
Contingent Workforce Personnel
Electric Transmission Systems Studies
Electrical Safety Training
IT Services
We work with you to turn challenging projects into high-value outcomes. Invite us to look at your situation. We offer valuable solutions. These will speed up your business, improve your bottom-line, and relieve stress. You and your team can focus on running your business.
Click here now to submit your request for assistance, including IT Services.  It is easy and takes just a couple of seconds.